The Katahdin Region Lures Pilots from Everywhere
If you are looking for a neat place to go where life is simple and flying is a way of life, the Katahdin Region is it. It is a unique opportunity to visit a destination with your own plane that can be like coming home. If you love the great outdoors and are tired of in your face commercialism, jump in your pride and joy and file for KMLT or 70B S.P.B. We will treat you like family!
If you are on wheels and need a transfer from the airport to the seaplane base (10 miles) just call ahead and we will have a courtesy vehicle waiting for you at the airport at no charge.
For you turbine drivers Jet-A is back on the field at KMLT as well as 100LL. Rental vehicles are also available. 100LL only is available at the seaplane base.
If you need more info on the Millinocket airport you can call the airport supervisor Jeff Campbell (pictured above)at: 207-723-6649. For info regarding the Katahdin Air seaplane base call 1-866-359-6246.
Also remember that KMLT is has almost completed a million dollar safety upgrade.This will allow the addition of an LPV approach system sometime next summer.
Check out our Katahdin Area seaplane Video:
Katahdin Air Seaplane Video
Jeff C with a fun Machine
PC12 at KMlt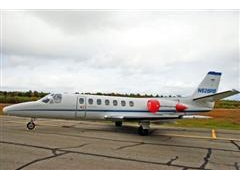 Citation at KMLT
Caravan and 206 going night night
The Moree Gang and the King Air
Jeff and A Falcon
PIA Amphib adds convenience to Katahdin Air
Caravan just looking good
TBM KMLT
G-3